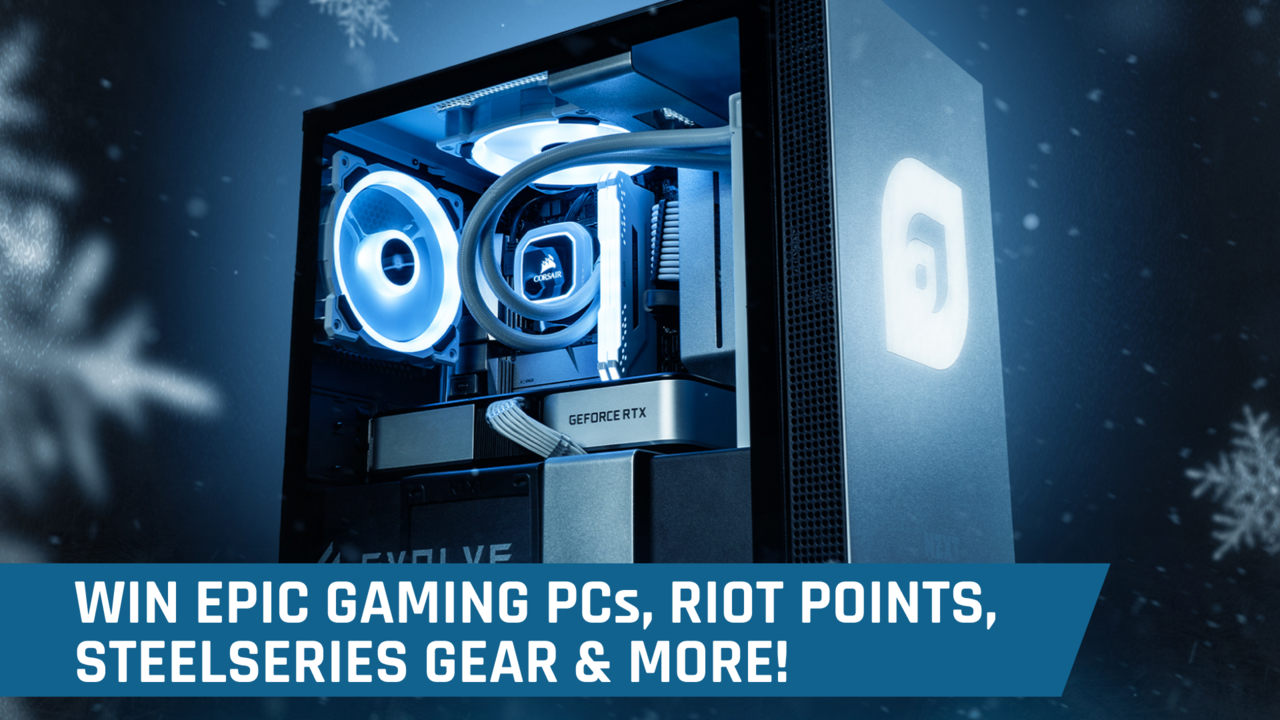 The year is coming to a close, and so is our giveaway and Premium sale! Make sure enter now for a chance to win! You can also enter ADVANCED's PC giveaway which ends on Jan 4th 2023, more detail below.
Holiday Giveaway
All new and existing premium users are automatically entered in a drawing to win:
PC Details: Ryzen 5600X, RTX 3060 Ti, 1TB NVME Gen 4, 16GB RGB DDR4 3600MHz, 240mm AIO Cooler, Custom White Cables, 5x RGB Fans, 750W Bronze PSU, Custom DTR design, Windows 11 Home included, 2-Year Warranty, Lifetime US-based Tech Support. Retail value, over $1700 USD. The image of the PC will be updated to reflect the final product.
2x SteelSeries Prime Headsets*
2x SteelSeries Prime Mice*
10x Riot Point Codes (2,760 points per winner)
500x ADVANCEDgg Sample Packs
500x WTFast Subscriptions (1 month duration)
GET PREMIUM & ENTER THE GIVEAWAY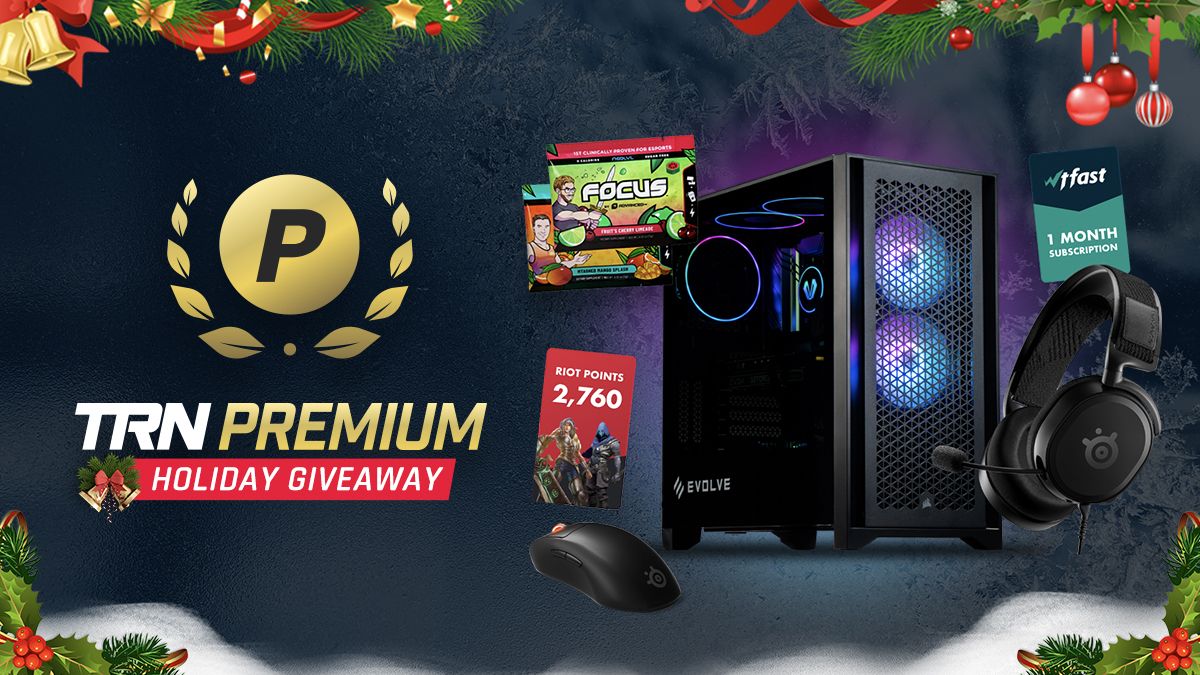 An alternate entry to the holiday giveaway is available here.
---
Up to 50% off TRN Premium
With our limited-time offer:
A 1-year Premium membership will cost you 50% less, at just $2 per month!
A monthly plan is now 30% off, at just $2.50 per month.
GET A DISCOUNTED MEMBERSHIP & ENTER THE GIVEAWAY
---
Premium Rewards
Premium members have access to a new round of Premium rewards. This round includes a unique Splitgate in-game skin for the "Scorpio Rocket Launcher" (limited to the first 1,000 redemptions), 200 BUFF coins* (welcome gift), exclusive Bloodhunt headgear, and 20% off our merch store!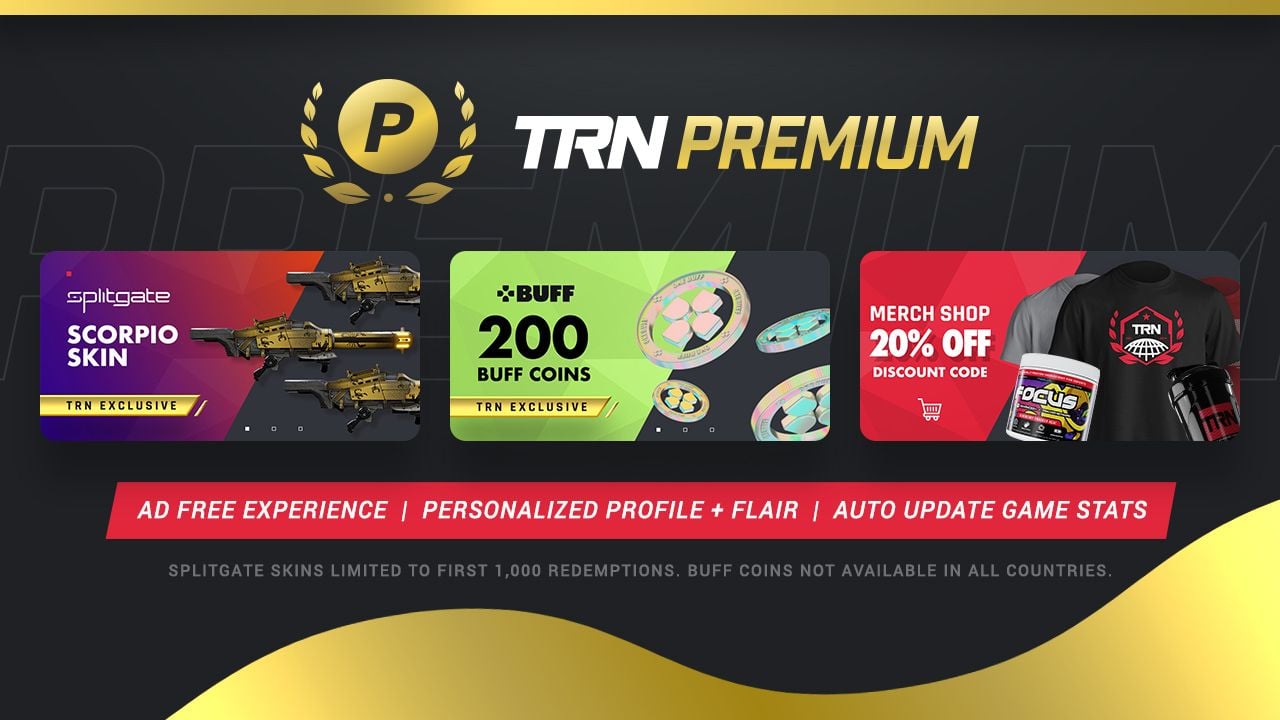 Premium users also have access to all the existing perks, these include:
Ad-free experience on all our sites, in-game and mobile apps
Customization of your stats profile
Premium badge next to your name on leaderboards and LFG
Game stats will automatically update, no need to keep your profile open to avoid grouped matches
Priority support and LFG listing
And more exciting features to come!
---
ADVANCED's PC Giveaway
Our partner's ADVANCED are also giving away a PC, make sure to enter their giveaway too!
---
A massive thank you to all our friends who made these prizes possible: Evolve PCs, SteelSeries, ADVANCEDgg, WTFast, 1047 Games and BUFF. Make sure to check them out.
Thank you all for a fantastic 2022, have a happy new year!
Love from all of us at Tracker Network
---
Terms, Conditions, and More Info
The promotion ends 1st Jan 2023 (subject to change). Winners will be contacted within 7 days after the promotion ends. Winners have 48 hours to respond, another winner will be chosen if the deadline passes. The winner of the EVOLVE PC must reside within the USA. The image of the PC differs from the final product. Winners of the SteelSeries products must reside within a country which is available for shipping, you can find those here. BUFF coins are available to new users only, and only available to residents of: United States, Germany, Switzerland, Canada, Great Britain, Mexico, Australia, Spain, Sweden, Ireland, Austria, France, Norway, Italy, Finland, Belgium, Singapore, New Zealand, Hong Kong, Netherlands (the). Membership saving value is based on the cost of a single-month purchase option.
Comments