ANNOUNCING ANVIL'S LEGACY!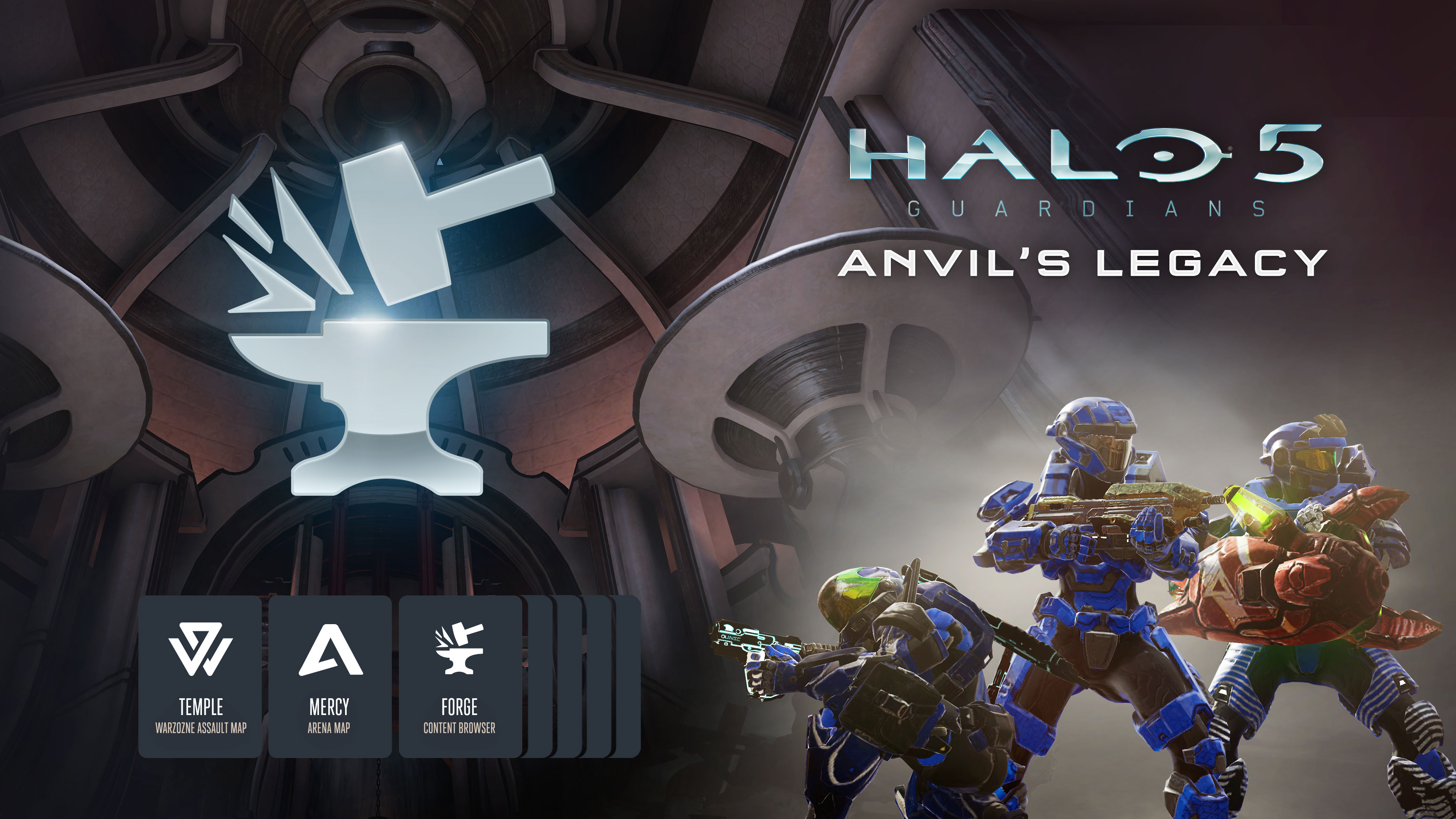 FORGE CONTENT BROWSER

The Anvil's Legacy free content release brings easily one of the most eagerly-anticipated features to Halo 5: Guardians – a robust new Forge Content Browser. This incredible new tool allows players to search for, highlight, discover, share, and play their favorite Forge creations more easily than ever before.

The Halo 5: Guardians Forge Content Browser not only supports custom maps and game modes, but also the ability to share and discover brand new Forge Object Groups – a new feature designed to streamline the creative process by letting players save pre-fabricated object groups such as buildings, bases, and much more. With the new Forge Content Browser for Halo 5: Forge and Halo 5: Guardians, build and share your creations across both Windows 10 and Xbox One platforms for an all-access pass to a nearly infinite array of awesome new experiences.

NEW ARENA AND WARZONE MAPS

Anvil's Legacy also adds two new multiplayer maps to Halo 5: Guardians – both set on the Elite homeworld of Sanghelios: Mercy and Temple. Mercy is a beautiful new Arena multiplayer playspace that combines contested corridors with a mix of open sightlines. Temple is a brand new large-scale battleground built from the ground up with Warzone Assault in mind.





NEW REQS

Anvil's Legacy includes several new REQ for players to collect, including new weapons, attachments, weapon and armor skins, and more. Some fan favorite armors get a new coat of paint, and a new Magnum loadout lets Spartans pack a new powerful punch in a nice convenient package.

THE HALO APP

Also launching on Sep 8 alongside Halo 5: Forge on Windows 10 PC will be the brand new Halo app, which lets you quickly and easily find, download, and launch Halo games available on Windows PCs, all while providing players with the latest news, videos, tutorials, featured community content, update notes, and more from across the entire Halo universe. We'll have much more on the Halo app coming up very soon, so stay tuned!

No matter what flavor of Halo experience you enjoy, September will be a month to remember. From the launch of Halo 5: Forge on Windows 10 PC and the Anvil's Legacy content release for Halo 5: Guardians on Xbox One, to the next chapter in Halo esports with the Halo Championship Series' new season and upcoming additions to the Halo universe with Halo Mythos and Halo: Fractures, there's something for every Halo fan to look forward to. We'll have even more details to share later this week on HaloWaypoint.com in the Halo Community Update – we can't wait to see you there!